Sometimes you just can't change!
The absorbency level of most diapers doesn't allow for long term security, the kind we need for heavy nights and long bathroom lines at events. Depend and other brands market Booster Pads, a strip of absorbent material you place inside a diaper for added protection. These work, but they're expensive to use with every change, they don't work well with pull-ups, and they don't always stay in place.
An alternative is using children's diapers as stuffers, something that has saved me tons of money, time and embarrassing changes in crowded bathrooms. The brand I use most for stuffers are the Size 6 Pampers Cruisers and Baby dry, but almost any diaper will do. Just keep in mind 4T-5T and Size 6 works the best, and keep away from plastic backed diapers unless you want to crinkle and sweat.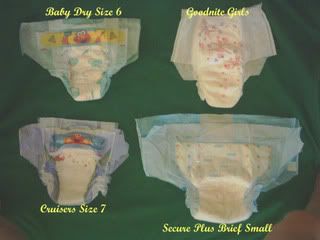 In this picture is the Pampers Baby Dry Size 6, which I use for stuffers the most often, as well as a Goodnite, which I'll use for stuffing another pull-up. In the picture is also a Pampers Cruiser size 7, the biggest size of Pampers ever made. And the other diaper is a secure plus I'm going to stuff with the baby dry.
First, cut the tapes and front wings off so there are no abrasive parts, but leave a little room on each side so the diaper isn't a complete rectangle.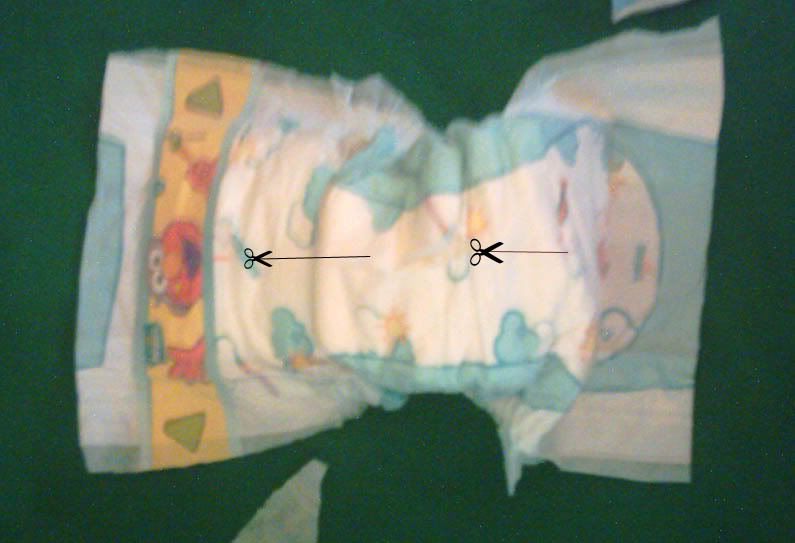 Carefully cut a slit down the front and back, stopping both cuts a little before the part that sags the lowest.  Try to cut the cloth, not too much of the gel, because it will get loose and get really abrasive inside of your outer diaper.
I usually cut a month worth of diapers which is usually around 40 diapers. The process takes a while, but its well worth it. Storing the pre-cut ones is tough due to the gel falling out, but you can solve this by pre-stuffing a bunch of diapers as well, so you can just grab a perfectly prepared 12 hour diaper and go. This is what it should look like. (I'll explain the little hands)            
When I'm changing, I'll place the stuffer inside the larger brief, then lay in it so the stuffer covers you as if you were going to tape up the baby diaper, then bring the big diaper over the stuffer and tape up
then you're good to go. It takes some getting used to, and if you grab both of the diapers at the back where the little yellow hands are on the picture when your putting it on, it's easier to keep the stuffer in place. If you have too much trouble keeping the stuffer in place you can always try a Poise or Serenity pad, they have a sticky back and add some extra absorbency, but not as much as a Pampers. Make sure to cut the back as well, so it doesn't overflow accidentally. Menstrual/Maxi Pads have much less absorbency than a Serenity or Poise Pad, so don't bother using those.
I have also Stuffed/Doubled pull-ups quite often, I usually use the Poise panties, Goodnites or Depend Pull-ups, products that are less reliable alone. It's kind of the same method, I cut the front and back of the pull-up and then put it on and another pull-up over that. It works out better because sometimes the smaller pull-up will compensate for the lesser leg gathers on the pull-up.
If you want to be able to change quickly and effortlessly, one can wear a pull-up under another bigger pull-up, like a Goodnite under a Depend or Tena. When you're wet you can just take off the bottom one and then you have a fresh diaper.
The main problem with stuffing is bulk. The more absorbency, the bigger the diaper. I can't stand the feeling of a bulky sagging diaper hanging between my legs, but that's the cost of all-day protection. The baby diapers are very absorbent and oftentimes have lotion in the padding, and you don't have to worry about stares when you buy them. If you're really adverse to the cartoon characters, some brands are plain colored like G Diapers. Stuffing is a great way to make a diaper go further, does anyone have hints or tips about unconventional ways of diapering that has benefited you? Thanks for reading and keep checking back!